I wrote this piece after a visit to Eyam in Derbyshire and learning the story of the "Plague Village". In 1665 the bubonic plague was carried from London to the village of Eyam by fleas in some damp cloth. The villagers decided to quarantine themselves to prevent the spread of the disease. Eyam church was closed and services were held in the open air in the nearby valley of Cucklett Delf. The plague ran its course for 14 months and claimed the lives of 273 villagers. Each year on "Plague Sunday", usually the last Sunday in August, a procession is made from Eyam church to Cucklett Delf where a remembrance service is held.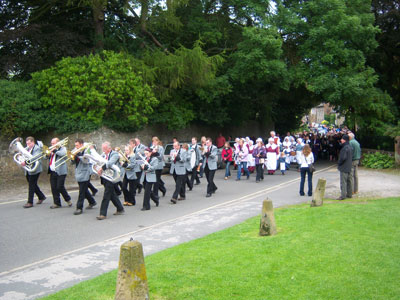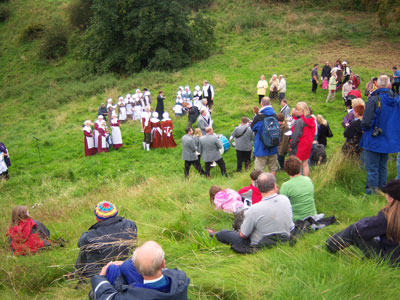 Audio | Transcript | Video
Built in 1906, Iris and Daffodil were the original ferryboats that crossed the river Mersey. In recognition of their gallant action during World War 1 they were allowed to use the prefix "Royal" in front of their names. The original ferryboats were withdrawn from service many years ago. I wrote "Iris and Daffodil" after a visit to Liverpool and a trip on the replacement ferry.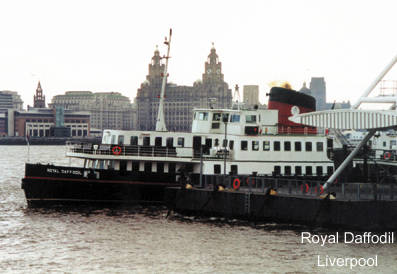 Audio | Transcript | Video
Many family holidays were spent at Woodhall Spa in Lincolnshire. One of the attractions is an old cinema called "The Kinema In The Woods". This setting was the inspiration for the tune.
This piece was written after a visit to the Royal Naval Dockyards at Portsmouth in celebration of the warship "HMS Warrior". She was the first warship to be constructed with an iron hull, and when completed in 1861 the Warrior was the largest, fastest and most heavily armed warship in the world. She was the ultimate deterrent of the day, and during 15 years of service never fired a shot in anger. No opponent dare challenge her. HMS Warrior has been restored to her 1861 condition and can be seen in Portsmouth alongside the Mary Rose and HMS Victory.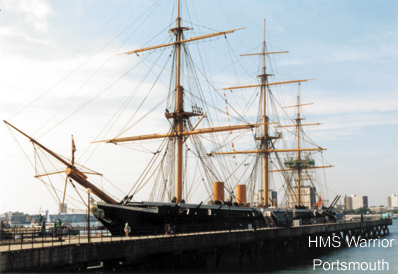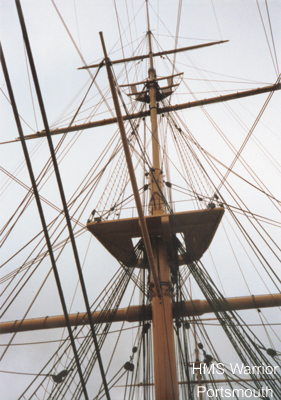 Audio | Transcript | Video
Driving through blizzard conditions across Salisbury Plain in December is not to be recommended. Pam and I were on tour and travelling to play at a folk club in Portsmouth that night. To try and raise our spirits we started singing some songs in the car as we crawled along the A303. As we finished singing the traditional song "I Live Not Where I Love" I said to Pam that "In The Bleak Mid Winter" would have been more appropriate. At home a few weeks later I continued with this theme. I took Gustav Holst's tune, combined some elements of "I Live Not Where I Love" added some bars of my own, and this arrangement is the result.
Audio | Transcript | Video
The Story Behind 'Banchory'
I wrote this tune after spending a very enjoyable day at Banchory during a tour of folk clubs in Scotland. Situated on the river Dee the town is renowned for its magnificent scenery and fresh air. Banchory is also the birthplace of the fiddler and composer Scott Skinner.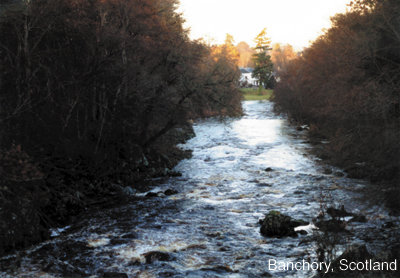 Audio | Transcript | Video
I occasionally give workshops on alternate guitar tunings and wrote "Night Train Blues" to demonstrate how DADGAD tuning, often used in playing Celtic music, can also be used in playing blues.
This piece was written as an example of how a ragtime tune can be played in open G tuning. I recorded it at home and then forgot all about it until I started looking for material for the "Martin & Me" album. Fortunately I found the old recording and my original score in the garage.
Audio | Transcript | Video
During the early 90's Pam and I were asked by the BBC to record some radio sessions at Pebble Mill studios for late night Radio 2 programmes "Night Ride" and "The Early Show". I wrote this tune whilst preparing material for one of these sessions.
- Paul Cherrington